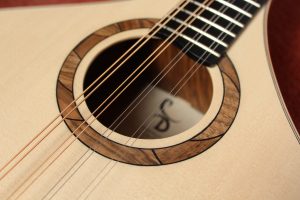 Its been a long time since I have made a classic Irish Bouzouki, and this I really enjoyed.
Built for a fantastic player and all-round nice guy on the Irish music scene in Bristol. He allowed me a few indulgences, like this rosette. An opportunity to use some of the gnarly grain of this walnut should not be missed.
There are lengthy debates on the best choice of tonewoods for Irish Bouzoukis. From my perspective, in the grand scheme of things, these are still relatively young instruments. So tonal structure is something still to be explored.
I went through the options with the customer and we landed up with: Swiss moon spruce top, European walnut back and sides and Rocklite fingerboard and bridge combo.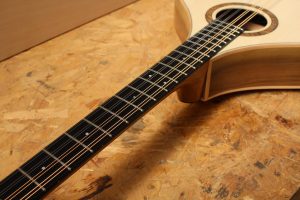 Rocklite is a fascinating material to work with and well worth looking into for your next build.
Here is the Ebano type rocklite on this 25.5″ Irish Bouzouki scale. It can be used as a direct replacement for ebony, and from my perspective at least is the future of environmentally responsible choices for tonewood.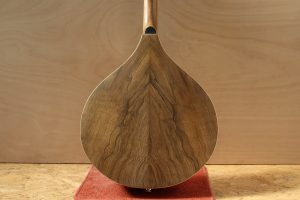 European walnut produces a lovely warm yet crisp tone for this Irish bouzouki. And has some of the best figuring of native hardwood species.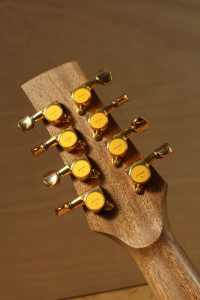 Design features are an important consideration, I like to add a volute. This helps add strength to a notorious weak spot of most steel string instruments.
Some Irish Bouzouki players like to use sliding capos for fast key changes, and in that instant you may prefer to opt for a rear cap on the headstock instead.
However as newer designs like Thalia capos come along they can save the neck a lot of pain from all that scraping/sliding.
This Irish Bouzouki produces a lovely sparkling tone with plenty of grunt at the bottom end. More CBOMS to come soon!